In memory of Bunch 1965-2003
Newtonlust
Are you a newcomer to the world of handhelds?
Never used a Newton? Are your wondering what they are all about?
Do you think your expensive new handheld is that advanced?

This site will show you some of the....
Things you can do with a Newton
Note
In the screenshots click on the -
general picture to link to the application home page

tabs (or part of the button bar) to take you to a

UNNA

directory (if available)

screen element hot spot to take you to another associated link

Screenshots
(a path of personal discovery...)
then take on the world (big)



Contemplate the future


Or simply contemplate the
and
Not satisfied? Want more?
Easy as A - B - C
Blow-your-mind
(external link)

For even more screenshots,
look at the original pages that inspired this site

Newton Envy

and

Newton pictures

These are just a few screenshots... there is so much more!
and here's where you might store it all!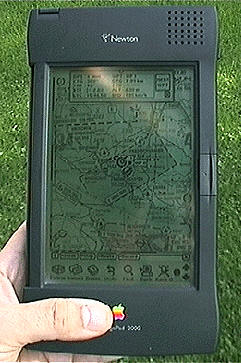 Handy little beggar!
It also had a variety of methods of entering text, including a decent sized keyboard.
With the large screen in landscape mode, the newton became
the ultimate form factor for mobile word processing!
(Not bad for a 1993-1997 Machine (Newton OS was born on 17-10-1989))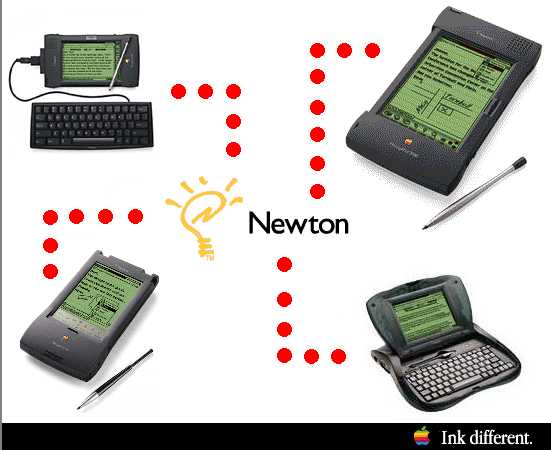 Acknowledgements
The pictures on this site were collected from many different sources, including other web sites, newton web server screenshots, documentation, and screenshots obtained directly from various people's newtons. If you are unhappy about the use of one of your pictures on this site, then please email me in that regard. Pictures are typically linked to their original sites or to pages that support and/or archive the associated application.
Thanks and kudos to all the pioneers who built and contributed to the software and hardware that makes the newton so great.
Hopefully this site will help showcase a few of your efforts - particularly to the many PDA users who will never use a newton but may use analogous implementations on later platforms. Let's hope the contributions made by the Newton community and their impact on the products and software now used on other platforms is recognised.
They didn't kill my Newton, it works just fine!
| | |
| --- | --- |
| http://www.newtontalk.net/~martinw/newtonlust/ | LM: 19 Apr 2005 |