DONGLE DESTROYER
When I bought my Newton, there were no serial adapter in the box. Withou t this little thing, I couldnīt load any new program and was limited to the built-in applications. The same day, I started investigating how to put an internal conector. Do you want to try yourself? Go on!!
Buy an aerial female MiniDin-8 connector (the ones that go at the end of a cable). Those are better because when you take out the case, they are small enougth to fit inside the Newton.
Make a drill of the same size of the external border of the connector in the plastic next to the infrared port of your Newton.
With superglue, fix the connector to the plastic making sure that itīs at the same level so the door can close later.
The first time, I conected the wires directly over the chip, but it was to fragile for me, opening the newton quite often. This way is much better and easier:
With 8 cables about 5 cm long (I used those that go inside the arms of records players) make the following conections, maybe you have to scratch the pads a bit with a cutter to see the copper: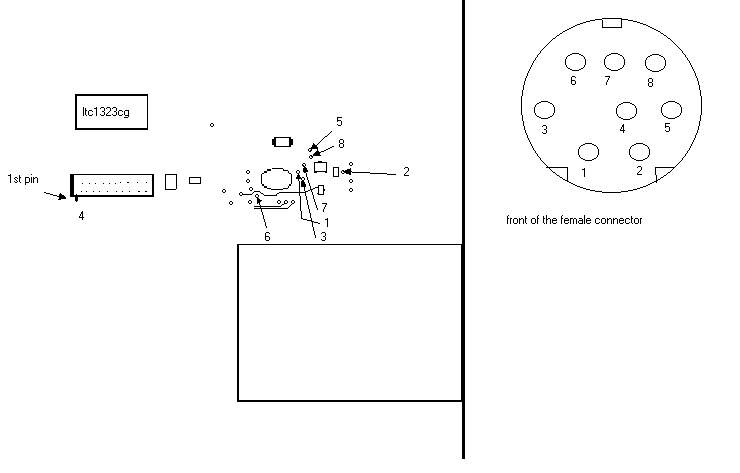 Try to solder the wires in the same direccion so they can fit later inside the newton without bending.
Test all the conections before closing, if itīs not working, maybe thereīs a cable not soldered. Try it again. If you donīt like it, you can take al the cables out knowing that everything will be as at the begining, we havenīt touched any chip.
Congratulations, now you can leave the dongle at home!!